Rising star working on latest Jurassic World film to attend the opening of the new 'Yorkshire's Jurassic World' exhibition at the Yorkshire Museum
21 March 2018
A rising star of the film industry currently working on the new Jurassic World: Fallen Kingdom film is set to attend the opening of a major new exhibition at the Yorkshire Museum later this month.
Umar Hussain has worked on some of the biggest Disney films of recent years, including Star Wars: The Last Jedi, Peter Pan, Guardians of the Galaxy and Teenage Mutant Ninja Turtles. His current position is Visual Effects Line Producer on the latest Jurassic World film set for release on June 7.
Before then Umar, who grew up in Yorkshire, will be attending the preview of Yorkshire's Jurassic World on March 23, which is being officially opened by Sir David Attenborough.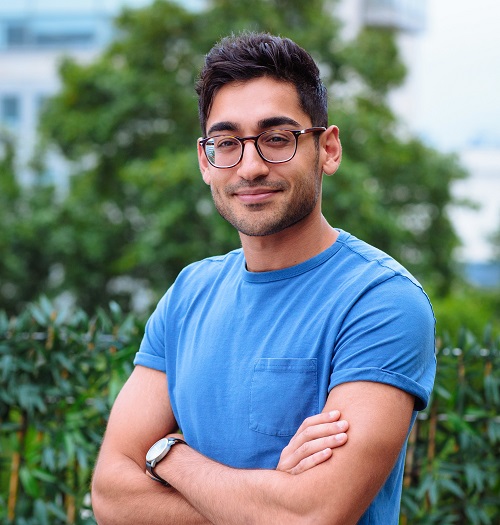 Charlotte Kindesjo, head of communications and fundraising for York Museums Trust, said:
"We are delighted that Umar is able to join us for the opening of Yorkshire's Jurassic World. We are looking forward to showing him the internationally significant collections and new technology which is allowing visitors to experience in new ways the Jurassic worlds that existed right here in what we now call Yorkshire.
"Jurassic World: Fallen Kingdom is set to be one of the blockbusters of the summer and it is bound to spark the interest in thousands of people wanting to know more about the dinosaurs and sea dragons that lived right here where they live today."
Umar, 25, originally from Calverley, Leeds, has had a meteoric rise through the film industry. Within four years he progressed from an intern to his current position, attending film premieres and working on some of the biggest film franchises in the world.
Umar is now based in London, but regularly visits family in Yorkshire. He will be attending the preview with his father, Zulfi Hussain, a businessman who lives in Leeds.
Yorkshire's Jurassic World will open on March 24, combining internationally significant collections with the latest technology to transport visitors back to the deep seas, tropical reefs and dinosaur country of 150 million years ago. Visitors can:
See virtual dinosaurs roaming across real dinosaur footprints
Be immersed in deep oceans where some of the museum's famous fossilised sea dragons are brought to life through Augmented Reality
See baby ichthyosaurs "swim" off from a rare fossil of embryonic creatures found on the Yorkshire Coast
Feed a sauropod lunch in a Virtual Reality experience which shows how Yorkshire's largest dinosaur may have looked
Marvel at the size and ferocity of the teeth and claws of Yorkshire's top Jurassic predator – the Megalosaur