Prize-Winning University of Hull Geology Student Map on Display at the Yorkshire Museum
7 August 2017
The Yorkshire Museum is displaying work by a University of Hull Geology Graduate. The display showcases the work of Harry Johnson, who won the John and Anne Philips Prize for the best Geological Mapping Dissertation for his map of the Isle of Kerrera, Scotland. Harry, originally from Barton-upon-Humber, graduated in July 2017 with a first-class BSc Geology degree from the University of Hull.
The display includes Harry's final geological map, samples of his field notes and field map, some of the analysis that was involved in his dissertation, rock samples from Kerrera and thin sections of rocks analysed in the laboratory back at Hull. Geological Mapping Dissertations are the capstone of geology degree programmes and are the result of almost a years work including 5 weeks spent in the field.
The display was unveiled on the 2nd August during a prize-giving reception hosted by the Yorkshire Philosophical Society (YPS), who sponsor the John and Anne Philips prize. The Museum is displaying this work through a long connection with the YPS, who founded the museum initially to accommodate their geological and archaeological collections. You can view the display in the foyer of the Yorkshire Museum until the 18th August 2017.
Find out more about the Yorkshire Philosophical Society (YPS) here.
Find out more about studying Geology at the University of Hull here.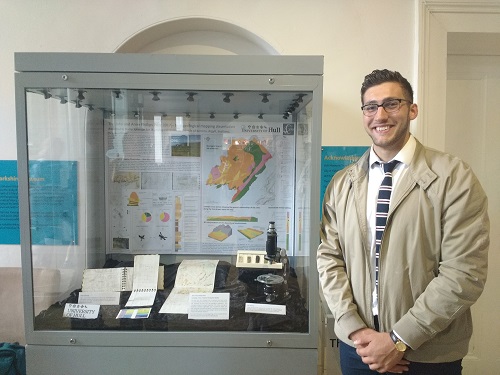 Photo: Harry Johnson with the display in the Yorkshire Museum foyer.